Undated
(ca 1878-1884?)
Sketch, pen and ink
13 1/4" x 17 1/2"
Unsigned
1976 West Point (#46)
Referred to as an 'undated pen and ink sketch in a Massachusetts private collection' by Ahrens (p75).

"Robert Weir: Artist and Teacher of West Point" refers to an unsigned ink drawing "Study for Columbus before the Council at Salamanca", 13 1/4" x 17 1/2", at the West Point Museum Collection.

These two sources appear to be referring to the same sketch (likely donated to the West Point Museum Collection between Ahrens and the exhibit): the sketch at West Point has gridlines, as does the 'private collection' one mentioned in Ahrens.

So what was the purpose of this sketch? There is a chance that it could be the tracing that Weir sent to Meigs in 1859 (which "cannot be located"), as this sketch is quite large compared to most Robert Walter Weir sketches, and the sketch was donated to West Point by a descendant of Robert Walter Weir (which is plausible if the tracing were returned to Weir). I think a more likely explanation is that it was used to make the 1884 painting (an "enlarged replica" of the 1877). To me, it seems to be much closer in composition to the 1884 version (e.g. the placement of the people is nearly identical; it has the 'zig-zag' on the top, Columbus' hand is above his head). If done before the 1877 painting, why would he not have incorporated those features into the 1877 painting?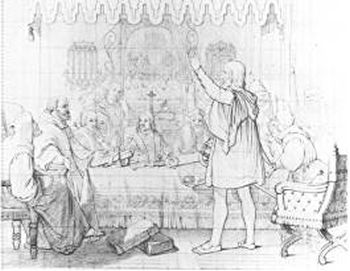 1837
Oil
Small1
Unknown
1841
1864
Exhibited at National Academy of Design in 1841 (#22), with many mentions in newspapers and books (New York Mirror, 06 Jan 1838 (full writeup); New York Mirror, 22 May 1841; The Knickerbocker, July 1841; The American Repertory of Arts, Sciences and Manufactures, Volume 3, 1841; The Iris, Or Literary Messenger, Volume 1, ~1841, Arcturus: A Journal of Books and Opinion, Volume 2, 1841). No visual record is known (e.g. Ahrens p72). Was referred to as Weir's 'chef-d'ouevre' (masterpiece).

The Smithsonian's Pre-1877 Art Exhibition Catalogue Index shows what appears to be the 1837 painting exhibited at the Artists' Fund Society, New York, New York, 1864, as entry #258, #260, or #266 . A New York Times article of the 1864 exhibit felt that the painting lacked the quality of newer paintings ("such expressionless faces" contrasts with 1841-era statements).
No pictures known
1877
Oil on Wood Panel
8 7/8" x 12"
Robt W. Weir, 1877
(lower right)
1878
Reportedly exhibited at the 1878 annual National Academy of Design exhibition, #536.

Location unknown until about 2000, when it appeared at Charleston Renaissance Gallery. It was no longer listed on their website as of late 2002. It then was up for auction on eBay briefly by Neal Auctions before a traditional auction, where it sold as Lot 361 for $10,575. It claimed "By inheritance, through the family of the artist; purchased from a descendant by the present owner."

It then was auctioned in September, 2010, with a $5K-$10K estimate, sold for $16,450.

It then went to auction in September, 2016, with a $5K-$6K estimate, but did not sell.

Finally, it was sold for a "Best Offer" on eBay (by the September, 2016 auctioneer), with a Buy-It-Now price of $4,500.

Oddly, Artists of the Nineteenth Century and Their Works a Handbook says that "at present (1878)" "Columbus Before the Council of Salamanca" was "a nearly completed picture." The timing suggests that would be the 1877-dated painting.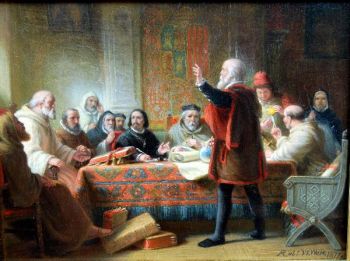 1878
Book, wood engaving
~6"x8"
n/a
n/a
A wood engaving of the 1877 painting. Ahrens refers to 1881, but the copy I found is dated 1879 with a 1878 copyright date.

Notable mainly because there were no images or references to the 1877 painting when Ahrens wrote his dissertation, so he relied on it to help figure out how many paintings were made.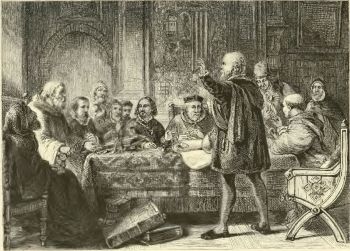 1884
Oil on canvas
29 1/4" x 40 1/8"
Robt W. Weir, 1884
(lower left)
1976 West Point (#47)
Owned by West Point Museum Collections.

Referred to at the 1976 exhibition as "Apparently the last and only extant" Columbus Before the Council of Salamanca. Has white tiled floor with diamonds connecting each, like Powell's 1847 painting. Has a jacket(?) on the chair.

Referred to as "an enlarged replica of No. 874" (presumably the 1877 version) at the estate auction of Robert Walter Weir in 1891.